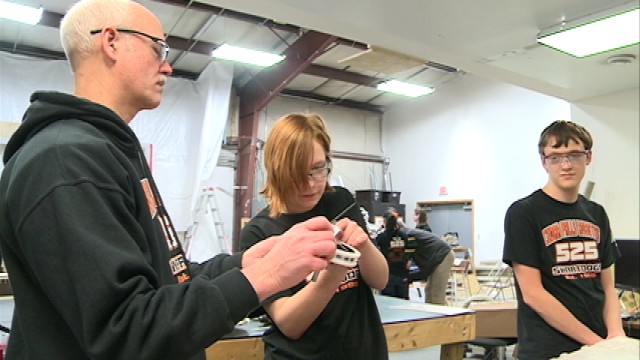 "Swartdogs" is a local team that competes through a program called FIRST, "For Inspiration and Recognition of Science and Technology. The Swartdogs consist of students from the Cedar Falls Schools and mentors from the Cedar Valley Area. Their mission is simple, to inspire students' interest in science and technology.
The team was founded by 2012 Gold Star Recipient, Kenton Swartley, a physics teacher at Cedar Falls High School. It started as a challenge to his physics class back in 1999, and has become a award winning program.
This year's robotics teams has been hard at work designing, building and programming a robot to throw Frisbees in just six weeks' time. The main objective is to shoot Frisbees into a specified goal. The students get extra points if their robot can climb a tower, but they focused their attention on the Frisbees.
For more information about the 2012 Robotics Competition,
Watch the KWWL Newscast on the Swartdogs!